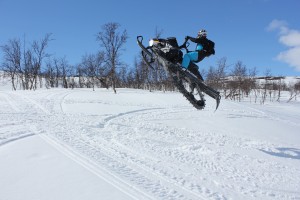 Connecticut snowmobile accident lawyers at Eagan Donohue Attorneys at Law have handled numerous wrongful death matters and injury claims arising from all types of accidents. When people think of motor vehicle accidents in and around the Northeast, they usually think of automobiles, motorcycles, 18-wheeler, and package delivery truck accidents. Accidents involving bicyclists and pedestrians also come to mind. Unless you live in the northern part of the country, one often overlooked category of motor vehicles that cause serious injury and death are snowmobile accidents.
There are several reasons snowmobiling is so dangerous. Number one is that there is no speed limit when operating a snowmobile off road. Often is the case where underage youths ride snowmobiles because no license is required to run off-road. Neither are helmets required and people drink alcohol before, during and after their snowmobile run without legal repercussions. There is no one in the woods to police snowmobiles.
More than 2 million people drive snowmobiles in North America. A snowmobile can weigh as much as 600 pounds and can travel at close to 100 miles per hour making it every bit as deadly as a motorcycle. Every year approximately 200 Americans lose their lives and 14,000 more are injured in snowmobile-related accidents.
In March of 2016, 47-year-old Keith Whitney of East Haven Connecticut was killed when the snowmobile he was operating ran into a metal cable strung between two trees across a driveway.
Recently a family outing in the Adirondack mountains turned deadly for a 12-year old girl when the snowmobile that she was a passenger on struck a pickup truck and was sent into a tree. 12-year old Harlie Rascoe, a seventh-grader was pronounced dead from injuries suffered in the snowmobile accident. Autopsy revealed that she died from multiple injuries including head trauma. She was not wearing a helmet.
In another recent snowmobile accident, 22-year old Wayne Gunnar Anderson died as a result of suffering a broken neck when the snowmobile he was operating went over a blind ravine and was struck from behind by another snowmobile.
Sources:
https://www.ncbi.nlm.nih.gov/pubmed/12671482
Connecticut man killed in Vermont snowmobile accident
Eagan Donohue Attorneys at Law's Connecticut snowmobile accident lawyers have handled numerous wrongful death matters and injury claims arising the use, operation, collision or rollover of a snowmobile. Call us today.